Introducing the Mo.net Financial Modelling Platform
Mo.net is an award-winning service-oriented financial modelling platform which harnesses the latest technology to allow organisations to radically improve their actuarial & risk management modelling capabilities. It is comprehensive, powerful and cost-effective, designed to meet all current and emerging insurance modelling needs.

Mo.net offers unrivalled levels of speed, scalability, ease of use, flexibility and enterprise integration to clients around the globe due to its modern, open, loosely-coupled, service-oriented architecture.

Mo.net allows users to develop their own bespoke models from a core set of extensible building blocks & components in order to reflect the features of their specific insurance products & business needs. Models can then be deployed for use by a multitude of business applications including, but not limited to:
Product development & pricing
New business illustrations & quotations
Valuation & reporting
Embedded value calculations
Statutory reserve calculations
Experience / sensitivity analysis & decision support
Asset / liability management
Economic capital & corporate modelling
Profit testing
Business planning & forecasting
Claim, surrender and transfer value calculations / statements
Capital Management
Platform Vision
The heart of our product development strategy is to provide a single calculation engine that meets the needs of the entire life insurance enterprise, from product pricing and pre-sale illustrations & quotations, through traditional actuarial valuation, reserving & capital management activity, through to back-offer policy / scheme servicing & administration. This is designed to help ensure consistency throughout the insurance lifecycle, minimise reconciliation activity, and put responsibility for calculations into the most appropriate hands.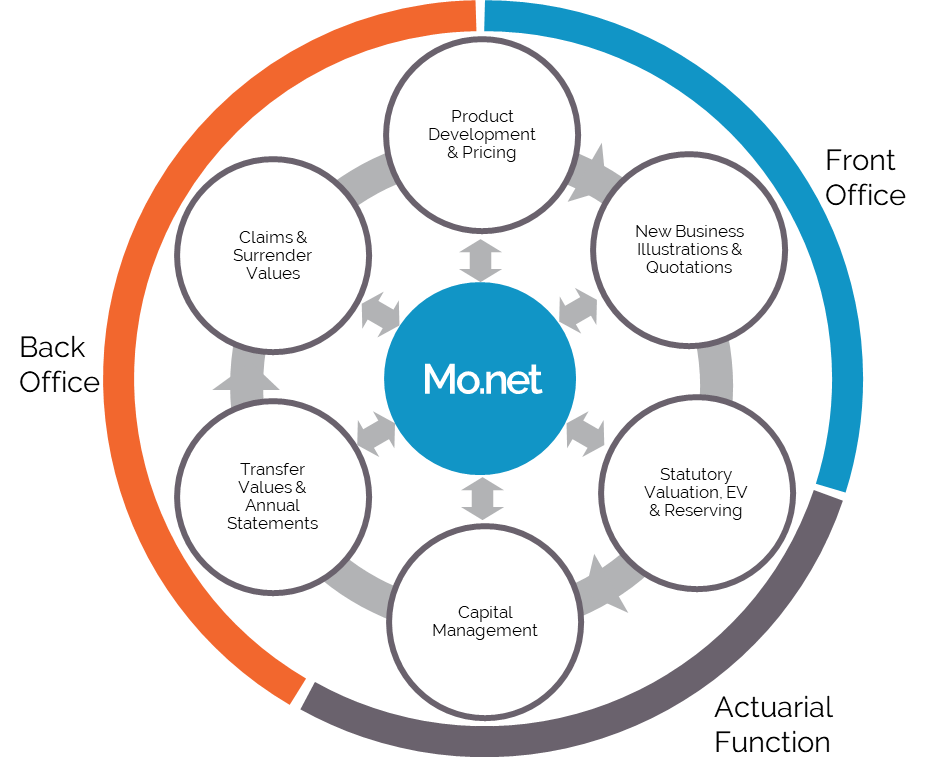 Platform Features
Mo.net provides a range of key features that differentiate it from the traditional financial modelling solutions.
Enterprise & Cloud Integration
For the first time, a single calculation kernel can support each stage of the insurance product lifecycle - from front-office quotations & illustrations, through core actuarial / risk reporting activities, into back-office policy administration & surrender value calculations. In addition, all components of the Mo.net Financial Modelling Platform can be deployed on-premise or off-premise, either in a fully managed, hosted environment, in the cloud, or in a hybrid environment. This offers incredible flexibility and scalability without incurring expensive infrastructure & support costs. Operational services deployed to the cloud can then be exposed via a range of public or private APIs.
Ease and Speed of Development
The Model Development Studio includes a variety of features that are specifically designed to increase the productivity of the model development and testing community. The familiar, intuitive development environment, with features such as auto completion, syntax checking, source code control, together with advanced debugging and profiling functionality, reduces the time required to develop or change mission critical models & calculations.
Governance at the Core
The Mo.net platform has been designed to meet the specific governance and audit needs of the insurance market. Whether it's managing model changes through Collaboration Services, providing different user groups with their own specific permissions using or monitoring / reporting who is doing what across the platform in realtime using Identity Services, Mo.net offers best-in-class governance and audit functionality.
Industry-Leading Performance & Scalability
The modern, legacy-free architecture of the Mo.net platform combined with the highly optimised model compiler results in a very small footprint for even the most complex models. In turn, this provides market-leading operational performance without resorting to exotic hardware, aggregated data, or reduced model functionality. For clients with exceptional or specific performance needs, Mo.net also provides access to a range of advanced numerical algorithms which can be incorporated into existing modelling solutions without rewriting from scratch.
Differentiators
As a developer Mo.net offers a number of best-in-class features to streamline the process of designing, developing and testing models. As an operational user Mo.net provides significant advantages over other modelling systems.
Legacy-free architecture / platform
Subscription-based licensing model – scale up / down as required
64-bit / multi-threaded as standard–performance / scalability out of the box
Supports collaborative development / auditing / change management
Transparency / lineage of calculations – view any result at any point
Modelling-as-a-Service – integrate with variety of enterprise hosts
Clear separation of development and operational interfaces
Permissions / role-based access to platform components
Massive potential for reuse – at project or model level
Lightweight, portable, service-oriented design
Supports end-to-end governance from development to operations
Intuitive, interactive debugging experience